2016 College World Series: An Improbable Matchup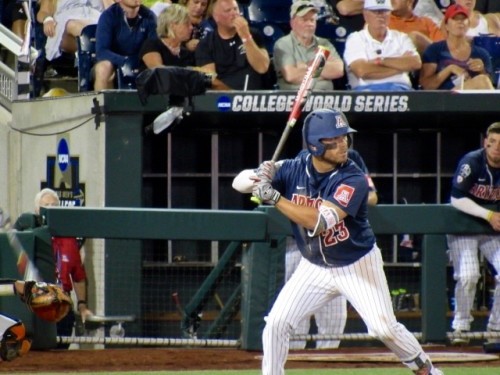 SUX Sports/Josh Sachnoff
A general story that has seemed to captivate many within the sporting community for centuries is the tale of the underdog. Whether it be The Miracle on Ice, Buster Douglas knocking out Tyson, or the Giants beating the undefeated Patriots in the Super Bowl, this idea of David vs. Goliath triggers something in fans everywhere. We love to cheer on the Cinderella while vehemently rooting against the favorite, if nothing else, to keep our interest in the matchup. But what happens when there is no Goliath? No obvious team to root for or against? Well, then you have something like the 2016 College World Series Finals matchup. Coastal Carolina and Arizona are two Davids that took down a slew of Goliaths to get to where they are now. Both teams have made such improbable runs that to deem them both as CWS Cinderella teams is fitting. However, underneath that "aww, how cute" and feel-good story makeup lurks, in this writer's opinion, the two best teams in the nation and two of the most lethal squads in recent memory.
The Coastal Carolina Chanticleers entered play in Omaha leading the field in three categories: most wins in Division I this season with 53, the most home runs in Division I this season with 95, and the coolest/most confusing nickname in the tournament. So coming in, Coastal should've easily been on everyone's radar. So why were the Chants overlooked? Well, for one, they play in the Big South Conference (fun fact: Coastal is moving to the Sun Belt Conference next season) instead of the overly-touted SEC and ACC. The Chants have a strong program history but aren't taken as seriously perhaps because of conference affiliation. And secondly, this is their first CWS appearance.
In a tournament that can be incredibly unforgiving and a stadium that slows down dynamic offenses, betting the house on Coastal to make it to the finals logically wasn't the smartest move. And yet, defying the odds, the fans' expectations and maybe even their own, the Chanticleers are two wins away from the school's first NCAA National Championship.
Coastal Carolina had to take down the likes of NC State, LSU, Florida and TCU to get to this point. To say its postseason results are impressive is an understatement. Those teams were favorites to reach the finals, and getting out of the LSU region with a two-game sweep is an accomplishment on its own given how difficult it can get to play on the road in Baton Rouge. The Chanticleers have excelled in Omaha with timely pitching and an explosive offense. One can single out second basemen Tyler Chadwick or senior catcher David Parrett as catalysts at the plate, but in reality, the entire lineup has been contributing. This team can hit, one through nine in the lineup. An obvious long-ball threat, the Chants can also hurt you with small ball. Facing a team that is allowing less than 1.5 runs a game in Omaha, we're about to witness an unstoppable force hit an immoveable object.
Arizona's program history is a little different than Coastal's to say the least. 17 CWS appearances, four national titles (most recent in 2012) and tied for the most championships in the final field of eight, Arizona is probably the powerhouse program in Omaha this year. So why were the Wildcats considered underdogs? Being picked to finish ninth in the Pac-12 Conference standings in the preseason polls will do that. Up until this season, Arizona hadn't sniffed a postseason berth since its championship in 2012 (where it went undefeated and beat another team from South Carolina). The 'Cats finished conference play tied for third and snuck into the tournament. Ask head coach Jay Johnson and he will most likely attribute a very difficult but successful non-conference schedule for his team's inclusion.
This Wildcats team share some similarities to the 2012 team, such as timely hitting and fantastic pitching from Nathan Bannister and Boston Red Sox draft pick pitcher/infielder Bobby Dalbec. But unlike the 2012 squad, the 2016 Wildcats have faced adversity since Day 1 of the tournament. The 2012 team hosted a regional but this year's team had to go on the road to face the likes of Louisiana Lafayette and Mississippi State, the latter they swept in a hostile environment in comeback, walk-off fashion to advance to Omaha.
The Wildcats have played six elimination games and in all six rose to the occasion. Bannister leads the nation in innings pitched and is the Wildcats' go-to-guy, but he is day-to-day with an arm injury and the Wildcats may have to face a dangerous offense with a limited and already overworked rotation if he cannot play. The cards have been stacked against Arizona all season. Still, ask any one of those players and they still like their chances.
As you can see, these Cinderellas are only that in appearance. Underneath the label lies a couple of great baseball teams. So to the casual fan, you may ask, "Who should I root for?" Does it matter? In Coastal you have the newbies who can play with anyone. The Chants play an exciting brand of baseball that even the most nonchalant baseball spectator can appreciate. They're led by legendary coach in Gary Gilmore looking to cement his legacy by delivering a CWS first-timer a championship for the first time since Minnesota did it in 1956.
In Arizona, you have a powerhouse renewed; a team that dedicated its season early on to a young diehard fan who lost his life to cancer. The Wildcats are led by a first year coach that is looking to break the trend of first year coaches losing in the CWS finals (the last four all lost).
The stories are definitely there, and there are many personal stories that weren't even touched on. You have two teams that carry around comical props, have intricate dugout antics, dance parties and insane handshakes. You have two teams that defied the odds and made baseball fun again. These teams don't believe in all work and no play. And to top it off, the two best teams in the country get to face off in a best-of-three series. Yes, the clock will strike midnight in this Cinderella story. But no matter the result, both teams and fans of the sport will be left with a feel-good happy ending. Both teams will be able to hang their heads high, one team will be crowned, and the fans will be left with a smile on their face. In the end, that's what makes this World Series worth the watch.