CFP Championship Preview: No. 1 Alabama vs. No. 2 Clemson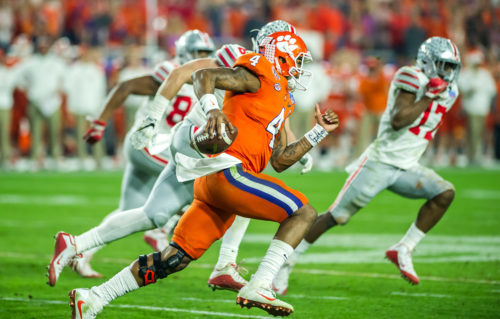 Sports360AZ.com/Andy Silvas
January 9: No. 1 Alabama vs. No. 2 Clemson 7 PM CT ESPN (Tampa, Fla)
Whether college football fans like it or not, the two best teams in the nation will be facing off once again in the third College Football Playoff Championship on Monday night in Tampa, Fla. Last year's contest in Glendale, Ariz, which Alabama prevailed 45-40, proved that Dabo Swinney's Tigers could keep up with the best in the SEC.
The difference in Nick Saban earning the program its fourth national championship in seven years against Clemson last season was Alabama's special teams play and a clutch play-call by former offensive coordinator Lane Kiffin when quarterback Jake Coker ran for a first down with 2:10 remaining. That play helped set up a one-yard Derrick Henry touchdown to put the game out of reach.
The top-ranked Crimson Tide enter their second straight national championship game on a 26-game winning streak dating back to Sept. 26, 2015. Kiffin was relieved of his duties on Monday as he starts his new job at Florida Atlantic, meaning it will be up former USC head coach and new play-caller Steve Sarkisian to run the offense. The big question will be if the transition will hurt the flow of an Alabama offense led by freshman quarterback Jalen Hurts.
Despite dominating Washington 24-7 in a Peach Bowl victory, Hurts threw for a career-low 57 yards and relied heavily on running back Bo Scarbrough's 180 rushing yards and two touchdowns. The offense is going to need more production through the air against a physical Clemson defense that will punish opposing ground games with Carlos Watkins, Dexter Lawrence, Christian Wilkins and Fiesta Bowl Defensive MVP Clelin Ferrell up front. Hurts needs to get the trio of Calvin Ridley, ArDarius Stewart and O.J. Howard involved if Alabama's offense is going to thrive in this one. Howard racked up a team-high 208 receiving yards and two touchdowns in the CFP Championship Game last year.
On the other hand, Clemson is seeking revenge against Alabama after it shut out Ohio State 31-0 for the first time since 1993 in the Fiesta Bowl on New Year's Eve. There is no player that needs this championship more than junior quarterback DeShaun Watson, who was a runner-up for the Heisman Trophy. Watson has racked up 4,173 passing yards, 586 rushing yards and 46 total touchdowns this season.
The biggest hurdle for Watson in this contest will be to avoid throwing interceptions, which he's done 17 times this year. Throwing even one interception against a dangerous Crimson Tide defense could change the momentum of the game if the Tigers are in a close one. Alabama leads the nation with 11 defensive touchdowns this season.
In what will be Alabama's greatest test yet, it needs to keep Watson in the pocket and avoid letting him escape the pocket where he can make an impact with either his arm or legs. While Watson is a big priority, the Tiger offense is loaded with weapons. 1,000-yard rusher Wayne Gallman has found the end zone 16 times this season and has the ability to stay on his feet after contact to pick up key yardage.
The Tigers have key playmakers in the pass game as well, especially go-to wide receiver Mike Williams, who will look to cause problems for a Minkah Fitzpatrick led Alabama secondary. Williams heads a dangerous receiving corps averaging 327.8 yards per game (seventh in the nation) with 90 receptions for 1,267 yards and 10 touchdowns.
A rematch of Clemson's explosive offense against Alabama's stout defense should be a good one in what has become a new intriguing matchup in college football. This will be the 17th meeting between the two programs with the last 13 wins in the series belonging to the Crimson Tide. With a win over the Tigers, Alabama would earn its 17th straight victory over an AP ranked opponent, which would break USC's streak of 16 from 2002-05. While the Crimson Tide go for their second straight national title, Clemson would like nothing more than to spoil their dream season by defeating them for the first time in 112 years and helping the program win its first national title since 1981.
Prediction: Clemson 27, Alabama 24