Iowa Hawkeyes Football: National Signing Day Recap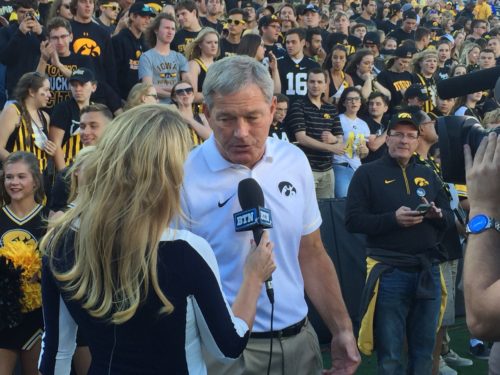 SUX Sports/Josh Sachnoff
The Iowa Hawkeyes finished National Signing Day with 22 commitments and were ranked 40th in the nation, which is two spots better than last year according to rivals.com.
Head coach Kirk Ferentz heads into his 19th year at the helm in Iowa City with hopes of improving after a mediocre season that ended with a disappointing 30-3 loss to Florida in the Outback Bowl. The Hawkeyes return seven starters on offense and eight starters on defense heading into what will be a challenging 2017 season. In what was the Hawkeyes best recruiting class since 2011, here are the top recruits for the 2017 class:
A.J. Epenesa  6-5  270  (Edwardsville, IL/Edwardsville HS)
Position: Strong-side defensive end
National Rank: 30
Position Rank: 1
Epenesa, who is one of the best recruits in the nation, signed with the Hawkeyes who his father Eppy played for back in the 1990s. The 5-star recruit from Edwardsville, IL chose Iowa over highly-profiled schools such as Alabama, Florida State, Michigan, Oklahoma and USC. His big presence and athleticism up front will be beneficial for a defensive line that surrendered 153.2 rushing yards per game this past season. Epenesa recorded 57 tackles, 13 tackles for loss and five sacks in his senior year.
Tristan Wirfs  6-5  315  (Mount Vernon, IA/Mount Vernon HS)
Position: Offensive Tackle
National Rank: —
Position Rank: 31
Wirfs, a 4-Star recruit from Mount Vernon, was the second best ranked recruit in the state of Iowa. He decided to take his talents to Iowa City two years ago with his only other offer coming from Iowa State. The U.S. Army All-American Bowl selection was a force to be reckoned with on both sides of the ball in his three-year varsity career. He was also a state champion in both discus and shot put. Wirfs will be a good addition for a Hawkeye offensive line that took home this year's Joe Moore award for the most outstanding offensive line.
Mark Kallenberger  6-6  260  (Bettendorf, IA/Bettendorf HS)   
Position: Offensive Tackle
National Rank: —
Position Rank: 71
Kallenberger is the fourth ranked recruit in the state of Iowa and picked the Hawkeyes over in-state rival Iowa State, Kansas State, Missouri and Nebraska. He earned first-team all-state honors during his junior and senior seasons at Bettendorf High School due to his strength and toughness up front. Kallenberger has potential to be very talented at the collegiate level with a Hawkeye program that is known for its solid offensive lines.
Peyton Mansell  6-2  193  (Belton, TX/Belton HS)
Position: Quarterback
National Rank: —
Position Rank: 20
Mansell flew under the radar and was basically recruited by mid-major and FCS programs. He accepted Iowa's offer though and committed this past June. He has good presence in the pocket and the ability to make accurate deep downfield passes. As a dual-threat quarterback, Mansell can beat opposing defenders with with his legs as well.
Ivory Kelly-Martin  5-11  195  (Plainfield, IL, Oswego East HS)
Position: Running back
National Rank: —
Position Rank: 41
Kelly-Martin was offered by other power conference programs like Arizona, Illinois, Syracuse, Vanderbilt and Wisconsin, but made the choice to join "The Swarm." The 3-Star running back won two state championships and accounted for 1,360 yards on 159 rush attempts for 22 touchdowns. He also scored four receiving touchdowns as well. Kelly-Martin has shown that he can shed off tackles and change direction without losing momentum. With LeShun Daniels Jr gone, he could make an immediate impact behind Akrum Wadley who decided to return to the Hawkeye backfield for his senior year.
Rest of the Class
Kyshaun Bryan  Running Back  5-10  210  (Fort Lauderdale, FL/ St. Thomas Aquinas)
Djimon Colbert  Defensive Back  6-1  215  (Shawnee Mission, KS/Bishop Miege HS)
Jacob Coons  Tight End  6-3  220  (Solon, IA/Solon HS)
Max Cooper  Wide Receiver  6-0  175  (Waukesha, WI/Catholic Memorial HS)
Trey Creamer  Athlete  6-0  175  (Cartersville, GA/Cartersville HS)
Levi Duwa  Defensive End  6-3  235  (Kalona, IA/Mid-Prairie)
Ryan Gersonde  Punter  6-4  185  (Milwaukee, WI/Marquette)
Matt Hankins  Defensive Back  6-1  175  (Lewisville, TX/Marcus)
Camron Harrell  Defensive Back  5-10  181  (Bourbannais, IL/Bradley-Bourbannais)
Coy Fitzpatrick  Offensive Line  6-5  275  (Madrid, IA/Madrid HS)
Henry Marchese  Wide Receiver  6-3  190  (Vernon Hills, IL/Stevenson)
Daviyon Nixon  Defensive Line  6-5  290  (Kenosha, WI/Indian Trail)
Brandon Smith  Wide Receiver  6-3  205  (Lake Cormorant, MS/Lake Cormorant HS)
Ihmir Smith-Marsette  Wide Receiver  6-2  175  (Newark, NJ/Weequahic)
Geno Stone  Defensive Back  6-0  195  (New Castle, PA/Senior)
Josh Turner  Defensive Back  6-0  180  (Delray Beach, FL/American Heritage)
Nate Wieland  Linebacker  6-1  220  (Iowa City, IA/Iowa City HS)
*  Rankings based off rivals.com