NCAA Tournament: Midwest Regional Preview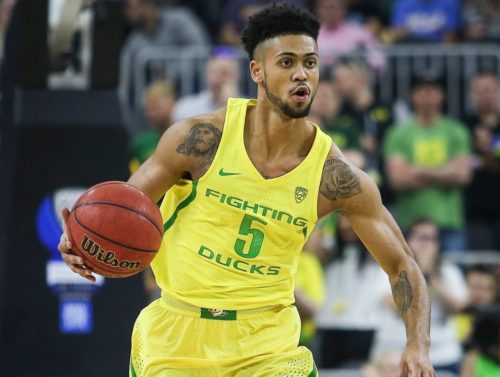 Eric Evans Photography
Midwest Region – Kansas City, MO (Sprint Center)
Thursday, March 23
#7 Michigan vs. #3 Oregon  6:09pm CT 
This has the making to be one of the most exciting Sweet 16 round games with the Ducks and Wolverines both surviving close calls in the second round.
Oregon, who just two weeks ago appeared to be a clear-cut Final Four contender with big man Chris Boucher still healthy, is still trying to fill that void. After a lackluster first half where the Ducks turned the ball over 10 times and trailed Rhode Island by eight, Dana Altman's squad cleaned things up on offense in the final 20 minutes and got a Tyler Dorsey game-winning three with 40 seconds remaining to advance. Oregon will lean on Dorsey and Dillion Brooks' scoring, along with Jordan Bell, who recorded 12 rebounds on Sunday night.
John Beilein's Wolverines are having a Cinderella-type run after an unimaginable run in the Big Ten Conference tournament and a 73-69 upset victory over second-seeded Louisville on Sunday. Sophomore forward Moritz Wagner put on an impressive performance against the Cardinal by scoring a career-high 26 points. It appears Derrick Walton Jr. and Co. are peaking at the right time and could be on the verge of advancing to the program's second Final Four in four years.
In just a matter of a week, these two program's seasons have drastically changed. One thing still stands true though, Altman and Beilein are two of the most underrated coaches in the nation and both will have their teams ready to go.
#4 Purdue vs. #1 Kansas  8:39pm CT 
Kansas pulled away from Michigan State with five minutes left in regulation to advance with a convincing 90-70 victory, while Purdue held on late 80-76 against a second half surge from Iowa State.
The Jayhawks, who last played in the Sprint Center on March 9th,  were upset by TCU in the Big 12 Conference Tournament. Freshman star Josh Jackson was absent due to a one-game suspension though. This time around should be different with Jackson back and his 16.6 points per game and 7.1 rebounds per game. Jackson, along with player of the year candidate Frank Mason III and Devonte' Graham, combined for 61 points against Michigan State. Not only will Purdue have to face that three-headed monster, it will basically be playing a road game. Just 43 miles from Allen Fieldhouse in Lawrence, Kansas has gone 34-7 at the Sprint Center and has brought its fan base with it.
While the Jayhawks appear to have the upper hand playing close to home, people may forget that on the other side Purdue is a talented team that took home the Big Ten Regular Season Title. So much for not respecting the Big Ten this season, as the conference currently has three teams remaining in the tournament. Sophomore forward Caleb Swanigan is the difference-maker for the fourth-seeded Boilermakers with 28 double-doubles this season. He caused serious problems on the boards against an Iowa State squad on Saturday night that ended Kansas' 54-home game winning streak this season.
It's going to be Kansas' guard play against Purdue's big men for what could be an interesting nightcap in Kansas City.