NCAA Tournament: Friday's Sweet 16 Preview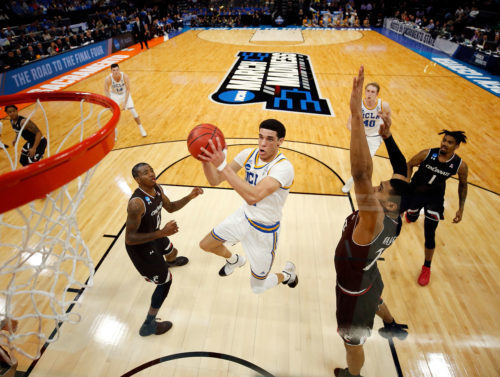 Jamie Squire/Getty Images
4 Butler vs 1 North Carolina  (South, 3/24 CBS 6:09 PM CT)
Butler record: 25-8, Beat 13 Winthrop and 12 Middle Tennessee
North Carolina record: 29-7, Beat 16 Texas Southern and 8 Arkansas
Player to watch for Butler: Tyler Lewis
Player to watch for North Carolina: Justin Jackson
Storyline: How does UNC respond? The Tar Heels faced a real scare against Arkansas and now face an increase in level of competition against Butler. The Bulldogs are playing with house money right now and have to be hungry. It will be fun to see how Roy Williams' squad handles the pressure of this matchup. This will be the first time the two schools will play each other in the Big Dance. Surprisingly, Butler actually owns the all-time series against UNC, holding three games to two.
Pick: North Carolina
7 South Carolina vs 3 Baylor  (East, 3/24 TBS 6:29 PM CT)
South Carolina record: 24-10, Beat 10 Marquette and 2 Duke
Baylor record: 27-7, Beat 14 New Mexico State and 11 USC
Player to watch for South Carolina: Sindarius Thornwell
Player to watch for Baylor: Jonathan Motley
Storyline: Sorry Baylor, all eyes are on South Carolina for this one. Somewhat of a Cinderella story, the Gamecocks followed up its first tournament win in 44 years with an upset over heavy favorite (and strong championship favorite) Duke. Led by the outspoken and often controversial coach Frank Martin, South Carolina looks like it belongs. ESPN cited this game as "Baylor relieved to see South Carolina as opponent". Folks, ignore that headline. While Duke is so deep and talented, there isn't a hungrier team in the tournament than South Carolina. Against Duke, the Gamecocks proved just how deadly that hunger can be. Baylor is seasoned and really, really good. It's a well coached team and has its share of star players. But don't think for one second that this game is going to be a pushover for Baylor. Also, don't you dare think that the Bears are relieved. They understand the tough task ahead and if they've prepared correctly for this matchup (which surely they have), they know just how dangerous this South Carolina team is.
Pick: South Carolina
3 UCLA vs 2 Kentucky  (South, 3/24 CBS 8:39 PM CT)
UCLA record: 31-4, Beat 14 Kent State and 6 Cincinnati
Kentucky record: 31-5, Beat 15 Northern Kentucky and 10 Wichita State
Player to watch for UCLA: Lonzo Ball
Player to watch for Kentucky: Malik Monk
Storyline: Forget all the future NBA talent that will be on showcase for this game. Forget UCLA's historic offensive production or Malik Monk's otherworldly talent. Forget the pedigrees of head coaches Steve Alford and John Calipari. Forget LaVar Ball's inability to not be obnoxious. This game is all about recent history between the two juggernauts. UCLA has owned Kentucky as of late. The Bruins embarrassed Kentucky at Pauley Pavilion in a season where Alford's team was so bad, he gave his salary back to UCLA. Then this year UCLA went into Rupp Arena and beat Kentucky again. You really don't think this game has a little something extra to it for the Wildcats? Like most Calipari teams, this UK team got progressively better over the course of the season. This is not the same matchup that happened during nonconference play. Therefore, give the slight edge to Kentucky. What this game could come down to if neither Ball or Monk completely take over is whether or not Alford can up his in-game adjustments, something he has struggled with in every single one of UCLA's losses. If you're looking for a tournament game that resembles something close to an NBA Playoff game, this is it right here.
Pick: Kentucky
8 Wisconsin vs 4 Florida  (East, 3/24 TBS 8:59 PM CT)
Wisconsin record: 27-9, Beat 9 Virginia Tech and 1 Villanova
Florida record: 26-8, Beat 13 East Tennessee State and 5 Virginia
Player to watch for Wisconsin: Bronson Koenig
Player to watch for Florida: Devin Robinson
Storyline: Pure March Madness. The East bracket has turned out to be the most surprising bracket, as it guarantees at best a 3 seed in the Elite 8. While Florida's path to the Sweet 16 isn't that wild, Wisconsin had to get past defending national champ Villanova. This unlikely matchup is what March is all about. We have two really hot teams coming off strong defensive games (Florida held Virginia to only 39 points!!!) that both boast strong historic programs. Koenig is looking for his third Final Four, while Florida is looking to get back to the Billy Donovan years where he was always a championship threat (Donovan won the Final Four in back-to-back years). This could be a matchup with a large amount of lead changes, periods of low scoring and some seriously clutch shots in the final minutes. Stay tuned.
Pick: Wisconsin