2016-17 All-SUX Sports High School Boy's Basketball Teams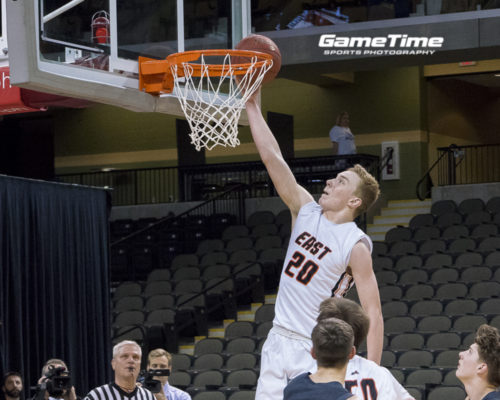 GameTime Sports Photography
FIRST TEAM
Van Rees (Sioux City East) Junior/Forward
Rees was a force to be reckoned with on the boards again this year, as the junior recorded 20.8 points and 11.8 rebounds per game (third in Class 4A). This two-time All-SUX Sports player helped lead Sioux City East to its first state appearance since 2012 where the Black Raiders finished third. In the state tournament, Rees averaged an impressive 21.3 ppg and was named to the Class 4A All-Tournament Team.
Chris Kroll (Sergeant Bluff-Luton) Senior/Guard
This Sergeant Bluff-Luton multi-sport athlete led the Warriors to their first state tournament since 1940. Kroll averaged 17 points per game and led his team with 110 assists. In the Class 3A Semifinal game, he put on arguably his best performance by scoring a career-high 32 points to knock off then-undefeated West Delaware 72-59.
Elijah Hazekamp (Bishop Heelan Catholic) Junior/Forward
The Bishop Heelan junior continued to prove this season just how dynamic he can be down low and from beyond the arc. Hazekamp led the Crusaders in scoring with 17.7 points points per game and in rebounding with 12.4 rebounds. His 298 total rebounds was the eighth best in the state of Iowa. Hazekamp racked up 20.7 ppg in the Class 3A Substate Round, as the Crusaders finished as the substate runner-up.
Aidan Vanderloo (Sioux City East) Sophomore/Guard
Vanderloo made huge strides in year two with Sioux City East by averaging 16.8 points per game. The sophomore hit 52.8 percent of his shots from the field and led the Black Raiders with 47 three-pointers. His performance in the substate final game against Council Bluffs Abraham Lincoln, where he scored 29 points and converted on his three attempts from beyond the arc, proved just how much the Siouxland area has to look forward to these next two years.
Jackson Wright (Sergeant Bluff-Luton) Senior/Forward
In his senior season, Jackson Wright showed much improvement and was instrumental in helping the Warriors get back to the state tournament for the first time in 77 years. Wright averaged 13.7 points, 7.9 rebounds and scored on 55.8 percent of his shots from the field. His presence down low, along with his ability to make big plays late in games, is what made him critical to the Warriors' success.
SECOND TEAM
Jay Small (Hinton) Senior/Guard
Once again, Jay Small put on another scoring clinic by averaging an impressive 24 points per game (third in Class 2A) this season. He also averaged 22 points or more per game for the third straight year and finished his high school career with an astounding 1,875 career points. While Small became Hinton's all-time leading scorer, he managed to record 458 career assists.
Jailen Billings (Sioux City East) Senior/Guard
Billings, who transferred from Sioux City North to Sioux City East for his senior season, helped the Black Raiders to a third place finish at the state tournament. It was the second time Billings played in the state tournament with the last being in 2015 with Sioux City North. While his scoring dropped from 19.9 points per game to 12.7 due to his role in the offense, Billings led the Missouri River Conference with 112 assists.
Robert Rosenquist (Dakota Valley) Senior/Guard
After a solid junior campaign, Robert Rosenquist finished his career by scoring over 1,000 career points and helping Dakota Valley to its second straight state tournament appearance. While the Panthers had an up-and-down year, Rosenquist managed to score 17.3 points per game and record 4.3 assists per game. In Dakota Valley's two upset wins over top-ranked opponents Vermillion and Sioux Valley to clinch a spot in the state tournament, he averaged 26 points.
Kyrese Peck (Bishop Heelan Catholic) Senior/Forward
The Bishop Heelan senior stepped into a leading role in his final season and improved his points per game from 8.0 to 13.7. Peck also recorded 130 rebounds and led the Crusaders with 27 steals. With his ability to drive the lane and make big plays, Peck earned Missouri River Athletic Conference Second-Team honors as well.
James King (Sioux City West) Senior/Guard
James King was arguably one of the most exciting players to watch in the Siouxland area this season with his slam dunks and playmaking ability. King led the Wolverines with 12 points per game and shot almost 60 percent from the field. With the senior forwards help this season, Sioux City West had its most successful season in seven years.
HONORABLE MENTION
Jack Boever (Bishop Heelan Catholic) Junior/Guard
John Prochello (Dakota Valley) Senior/Center
Luke Schmitt (Dakota Valley) Senior/Guard
Ross Johnson (Hinton) Senior/Forward
Conner Groves (Sergeant Bluff-Luton) Sophomore/Guard
Keegan Savary (Sergeant Bluff-Luton) Senior/Guard
Dustin Birkes (Sioux City North) Senior/Guard
Trenton Frerichs (Sioux City North) Sophomore/Guard
Marquise Bolden (Sioux City West) Senior/Guard
Cliff McCray (Sioux City West) Sophomore/Guard
COACH OF THE YEAR
Ras Vanderloo, Sioux City East
PLAYER OF THE YEAR
Van Rees, Sioux City East
NEWCOMER OF THE YEAR
Conner Groves, Sergeant Bluff-Luton
* Teams voted on by members of the media in the Siouxland area and head coaches