NCAA Tournament: Inside The Final Four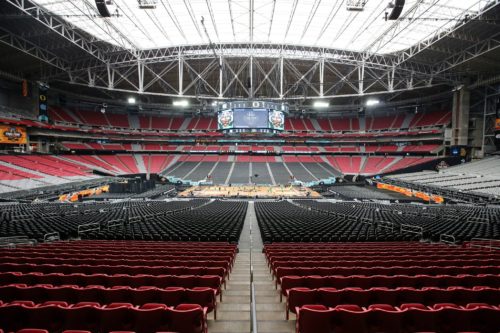 Eric Evans Photography
Well that was unexpected. After a long and hard fought season, we've almost reached the end. The Final Four boasts three semi-newcomers and blue blood powerhouse this year, and the storylines are endless. From coaching ties, program history, season twists and turns, there's plenty to talk about before the games start in Glendale. If you've been along for the ride since Day 1 or are just tuning in now, here are some storylines regarding each team that are worth noting.
#1 North Carolina (South)
Unless you have any ties to the university, have rooted for the Tar Heels for an extended period of time, have a deep-seeded hatred of Duke, or just bandwagon in your typical sports viewing routine, you're probably not rooting for North Carolina. Let's face it, last year's championship runner-ups are pretty much the villains every year it seems. Most of the country pulled for Villanova last year and celebrated the buzzer beater that broke hearts in Chapel Hill.
The Tar Heels are used to getting their way, there's a smugness emitting from the fanbase that can only be matched by Duke's, and the program is absolutely drenched in potential NCAA infractions. Still, there's something really likable about this team.
Roy Williams is entering his ninth Final Four. And like someone who's entering his ninth of anything, he's exhibiting a calmness and "been-there-done-that" approach. Whether or not you like the man, he's a winner and a hall of famer. That's not disputable. He's also golden for controversial soundbites, especially this season. Whether it's in regards to Twitter or the legislative happenings in North Carolina, Williams has polarized himself this year on a political spectrum. That may give you more incentive to root for the guy or on the flip side root for him to lose in embarrassing fashion.
Oh yeah, let's not forget UNC has players, too. Joel Berry is supposed to be good to go after dealing with an ankle injury and the veteran Tar Heels will ooze five star talent this weekend. Yet, the only player everyone wants to talk about is UNC hero Luke Maye. Maye, at one point a walk-on, hit a Laettner-esque buzzer-beater over Kentucky to propel the Tar Heels to yet another Final Four. That shot probably sums up what UNC fans are feeling this year: There's something different/special about this team.
Against Butler, the Tar Heels pretty much played a perfect game. When it's clicking on all cylinders, UNC is unstoppable. After last year's heartbreak, Maye's shot could be foreboding of a freight train that may finally reach its destination.
#1 Gonzaga (West)
"Mark Few will never reach a Final Four." "They don't play anyone." "Here comes the annual Gonzaga choke job." No more. With one dominating win over Xavier in the Elite Eight, all of the critics; all of the demons were silenced. Mark Few, one of the best coaches in the game, has finally broken through. His team reached the  Elite 8 in 2015 and who can forget the 2006 Sweet 16 game against UCLA where the Zags blew a 17 point lead and ended with an inconsolable Adam Morrison? All of that is in the rear view mirror.
So what pushed the Zags over the hurdle? Probably picking up a pair of Pac-12 transfers in Jordan Mathews from Cal and Nigel Williams-Goss from Washington. The latter has been the real difference maker. A national POY contender almost all season long, Williams-Goss this year became both the most loved and hated man in college basketball in the state of Washington. Spurning his old university to play for an in-state rival was a bold move without question. With strong recruiting classes coming in for the Huskies, some thought the transfer was selfish. Boy, did it pay off though.
After only one season, Williams-Goss has not only made a case for being the top point guard in the country, but has already become a legend in Gonzaga athletic lore. The kid whose draft stock continues to skyrocket while he leads one of the deepest and deadliest offenses in the country will be on full display this weekend. Watch as he hits big shots, feeds the beast (Przemek Karnowski) and runs the well-oiled machine.
Despite being a program that has overachieved this century, so much heartbreak has dampened this proud fanbase. No more.  All that's left is taking it home.
#3 Oregon (Midwest)
If you're one of the millions of people who doesn't stay awake to watch West Coast basketball, here's a little piece of knowledge: most sports pundits are just like you. They don't stay awake until 1:00 in the morning covering a college basketball game in January. Thus you have the fallacy that somehow Oregon is lucky to be in the Final Four.
The Ducks were a pre-season Top 5 and then lost to Georgetown and plummeted. Oregon, who found its winning ways again by knocking off UCLA and Arizona, yet again found itself in the Top 10. But again the Ducks were doubted again when leader and mega-shot-blocker Chris Boucher's college career ended due to a season-ending injury. The loss of Boucher's inside presence apparently made a talented and deep Oregon team figuratively unable to reach the Final Four. To quote West Coast basketball-loving Bill Walton…"Please." Most pundits were too well-rested to see Oregon's rise coming. Fortunately, this writer resides in the pacific timezone and can dish on just how good Oregon is.
Let's start with the head honcho. Once the Kansas-State coach like South Carolina coach Frank Martin, Dana Altman racked up a lot of wins before taking a crack at the Oregon coaching job. Since joining the Pac-12, Altman quickly became perhaps the conference's best coach. He is a solid recruiter and has the ability to get his teams to overachieve.  Altman is an unbelievable coach and he deserves to have a Final Four attached to his name. If you aren't familiar with Altman, get familiar. This probably won't be his last Final Four.
When Boucher tore his ACL it's fair to say that people panicked. It's almost like they forgot about Dillon Brooks, Tyler Dorsey and Jordan Bell. Brooks is the Pac-12 Player of the Year in a league that included Lonzo Ball, Lauri Markkanen, Markelle Fultz, T.J. Leaf and Ivan Rabb. Tyler Dorsey literally has the nickname Mr. March because of how clutch he has been in the tournament.
Jordan Bell is Oregon's all-time leading shot-blocker. For some reason, we were supposed to count this team out because they lost one guy?  This is a physical, skillful, gritty team chock-full of attitude playing for a fallen teammate all while boasting two of the most clutch players in college basketball. Why, oh why, did people sleep on the Ducks?
Even though Oregon was slighted and disrespected with a 3-seed in the Midwest, the Ducks actually got somewhat of a favorable path to the Elite 8. They took full advantage of that path but are once again being slighted. Easily the underdog against an East Coast power in North Carolina, Oregon has yet another chip on its shoulder. If you're looking for a dangerous, entertaining and passionate team to root for, look no further. Also, the Ducks feature a Canadian trio of Brooks, Boucher and Dylan Ennis so if you've got ties to Canada or love hockey, here's your team.
#7 South Carolina (East)
Here you have it folks, the closest thing we'll get to Cinderella. Although from a power conference, South Carolina actually does fit the bill of the underdog you want to root for. Prior to this year, the Gamecocks hadn't gone dancing since 2004, hadn't won an NCAA Tournament game since 1973, and most certainly had not reached the Final Four. This is not a basketball powerhouse and unlike Oregon, Gonzaga and North Carolina reaching the Final Four, no one saw this coming. That is, no one except head coach Frank Martin.
Frank Martin is an interesting guy to say the least. He's often surrounded by controversy that he creates like paying high school players or verbally abusing one of his student-athletes. He's not an even-tempered person and can come off very imposing. Like his team, though, he's matured and has been rewarded with the great success. Easily the most interesting coach in the Final Four, Martin's path to where he is now is worth digging into an a whole article by itself.
Sindarius Thornwell isn't just a one-man wrecking ball, he has the coolest name to boot. While P.J. Dozier has been  important for the Gamecocks, Thornwell has been the real difference maker. He has a Kemba Walker type of feel to him that a lot of people are starting to sense. Walker took a good and hot UCONN team on his back all the way to a championship back in 2011. Thornwell's story is a bit different though. The senior dealt with a brief suspension this year and was also arrested in May on drug possession and driving under a suspended license charges. The bounce-back has been warmly welcomed by South Carolina.
In the tournament, he's averaging an astounding 25.8 points. Helping him out on the other end is a suffocating defense. This team is playing tough and smart basketball, proving it belongs amongst its peers. Typically, a Cinderella team no matter how well it plays at some point or another looks out of place or outmatched. Maybe it's because they've played NCAA Tournament-caliber teams all year, or maybe it's just because Frank Martin's team has turned on the afterburners. Either way, South Carolina is not your typical Cinderella.