College Football: Nebraska Spring Game Recap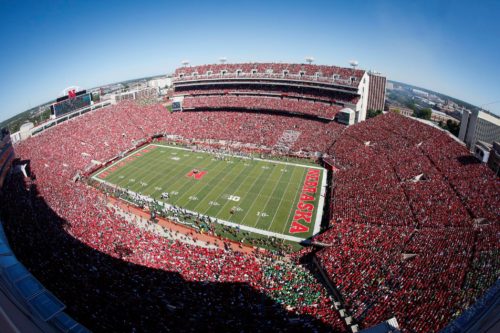 Eric Evans Photography
By Alex Grosvenor
LINCON, NE — The annual Nebraska Red-White scrimmage was held this past Saturday on a beautiful spring day at Memorial Stadium. With 78,312 fans in attendance, the Red team dominated the White Team 55-7. The Red team featured a majority of the first and second stringers, while many of the reserves were on the White team.
For the Huskers this spring, there have been several notable storylines. Several key position battles are currently going on, including Nebraska's first true quarterback battle since 2010. This 2017 Nebraska squad will look much different this season on both sides of the ball.
The offense graduated its top starting quarterback, running back, three receivers, and top three tight ends. Redshirt Freshman Patrick O'Brien (11 for 17, 134 yards, 1 TD) and junior Tanner Lee (13 for 19, 190 yards, 3 TDs) alternated drives quarterbacking the Red team's offense. O'Brien and Lee will continue to battle it out for the starting quarterback position once fall practice begins as well. Lee, who sat out last season due to NCAA transfer rules, started 19 games at Tulane and is believed to have an edge over O'Brien due to his experience. O'Brien sat out last season during a redshirt year.
Facing the top units, true freshman to-be quarterback Tristan Gebbia (28 for 51, 268 yards, 2 TDs, 1 INT) quarterbacked the White team for three quarters. Gebbia is an early enrollee who finished as the second-leading passer in California prep history by accounting for 13,109 passing yards and 141 touchdowns. He will likely redshirt this fall.
Nebraska's quarterbacks last season combined to complete 50.4% of their passes using dual-threat quarterbacks which ranked near the bottom of the FBS. The offense was plagued by inefficiency in 2016 and must take a step forward in Year 3 under Mike Riley at both the quarterback and running back positions. Though the game plan featured very mild defense, the top three quarterbacks combined to complete 65.2% of their passes on Saturday. They each did a solid job of hitting receivers in stride and fitting the ball into tight windows. There is no question Nebraska's top three quarterbacks are a more traditional fit for head coach Mike Riley's pro-style offense.
The Blackshirt defense will also be transitioning to a 3-4 defensive scheme after operating out of the 4-3 base defense every season since 1993. Unfortunately for the fans looking to get their first glimpse of the 3-4 in the spring game, neither squad lined up in the 3-4 due to the fact the scrimmage was being televised on the Big Ten Network.
The standout on defense Saturday was senior field side linebacker Luke Gifford, who played with a club on his left wrist after breaking a bone in practice a few weeks ago. Gifford stripped true freshman wide receiver Keyshawn Johnson, Jr. and recovered the fumble. On the next series Gifford made a miraculous one-handed interception.
Nebraska will open its 2017 campaign up against Arkansas State at Memorial Stadium on Sept. 2.