College Football: Iowa Spring Game Recap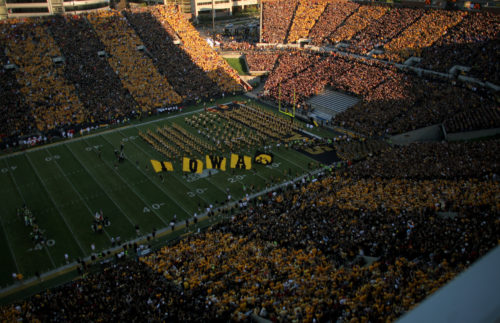 THE DAILY IOWAN/MARGARET KISPERT
IOWA CITY — The Iowa Hawkeyes took the field under the lights on Friday night at Kinnick Stadium for their annual spring game. Kirk Ferentz, who enters his 19th season at the helm, will look for improvement from his squad this season after an 8-5 campaign in 2016. Despite losing key veterans in All-American cornerback Desmond King and starting quarterback C.J. Beathard, the Hawkeyes return 14 starters and will be particularly strong on the offensive line with Cole Croston being the only starter gone from the most outstanding line in the country last year.
While Iowa will be strong upfront again, the quarterback position has been the biggest question this spring with sophomore Nathan Stanley and junior Tyler Wiegers battling for the starting job. While it's hard to be critical of either quarterback in what is basically a scrimmage, neither necessarily stood out. Wiegers was 10-of-30 for 80 yards with three interceptions and struggled to convert deep down field passes. While the competition will continue throughout fall camp, this wasn't necessarily the performance he had hoped for. Stanley, on the other hand, completed  5-of-14 passes for 24 yards with a touchdown.
With much of the focus on the quarterback competition, junior free safety Jake Gervase and redshirt freshman running back Toren Young stood out on Friday night. Gervase came up big by intercepting three of Wiegers' passes and taking one in for a 58-yard touchdown. With his solid performance in the spring game, he now puts himself in a good position to start at free safety with Brandon Snyder out with an ACL injury. Snyder suffered a torn ACL just prior to the Hawkeyes' practice in West Des Moines on April 7th.
Young was another player who had a good performance, as he showed Hawkeye fans that he may be that player to step in the backfield and be part of the 1-2 punch with 1,000-yard rusher Akrum Wadley. Young is a downhill runner that can run between the tackles. He's a physical type of back that could be a good replacement for LeShun Daniels Jr. this year. Young scored in the spring game on a 14-yard touchdown run with 6:25 left in the third quarter.
The offense will continue to be the main focus once fall camp begins under first-year offensive coordinator Brian Ferentz. The quarterback situation will need to be sorted out and either Stanley or Wiegers will need to be able to get on the same page with their receivers in the pass game. Senior wide receiver Matt VandeBerg returns on a medical redshirt, but wasn't able to take part in spring practice because he re-injured his foot.
The Iowa Hawkeyes will open the 2017 season against Wyoming on Sept. 2 at Kinnick Stadium.