2017 Big Ten Conference Preview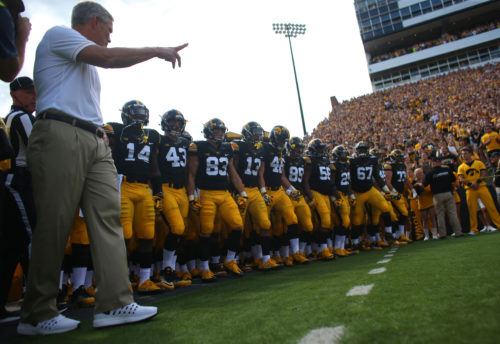 THE DAILY IOWAN
East Division   
Ohio State Buckeyes  12-1  8-1 (1st in Big Ten East)
After getting throttled by Clemson in the College Football Playoff Semifinal game 31-0 last season, the Buckeyes are seeking revenge with one of the top teams in the nation yet again.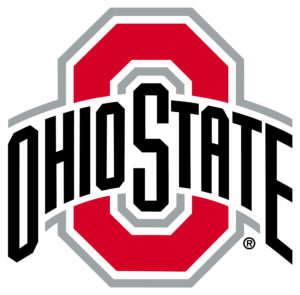 The offense will be led by fifth-year senior quarterback J.T. Barrett, who will be a Heisman Trophy contender after accounting for 2,555 passing yards and 33 total touchdowns last season.
Former Indiana head coach Kevin Wilson takes the reigns of a Buckeye offense that will have an experienced offensive line anchored by center Billy Price and a dangerous backfield consisting of sophomore 1,000-yard rusher Mike Weber.
An Ohio State defense that averaged only 15.5 points per game last year will be heavily loaded with one of the top defensive lines in the nation consisting of 2016 Big Ten Defensive Lineman of the year Tyquan Lewis. The secondary is the least experienced unit with the loss of Malik Hooker and only one starter back.
Ohio State will have an early showdown with Oklahoma at "the Shoe", which will have CFB Playoff implications. Reclaiming the Big Ten East Division title will come down to contests at home against Penn State (Oct. 28) and away at Michigan (Nov. 25). Expect to see Urban Meyer and Co. back in the CFB Playoff for a second consecutive year.
Penn State Nittany Lions  10-2  7-2 (2nd in Big Ten East)   
There was doubt heading into the 2016 season on whether or not James Franklin was the right head coach to get Penn State back on track. A disappointing 2-2 start, which included a close 42-39 loss at Pittsburgh and a 49-10 blowout loss at Michigan, was quickly overshadowed by a dramatic upset 24-21 win at home against Ohio State. By reeling off nine straight wins to a Big Ten title and a Rose Bowl berth, the Nittany Lions enter the 2017 season in unchartered territory.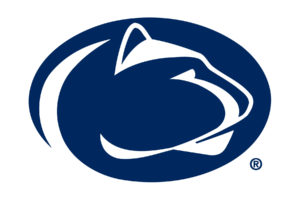 Nine starters return to a highly-talented offense that averaged 37.6 points per game. The duo of second-year starting quarterback Trace McSorley (3,614 passing yards, 29 TDs) and 2016 Big Ten Offensive Player of the Year running back Saquon Barkley (1,496 rushing yards, 18 TDs) have created a buzz in State College. In addition to the return of McSorley and Barkley, the offensive line and receiving corps basically stay intact from last season.
The Nittany Lion defense gets team-leading tackler free safety Marcus Allen back for one more season, along with five other starters. Injuries forced younger players to fill in at linebacker last season, meaning  there will be experience in the the linebacking corps. Both Parker Cothren and Curtis Cothran return to the tackle positions up front, while the defensive end spots must be filled.
Early contests against in-state foe Pittsburgh (Sept. 9) and at Iowa (Sept. 23) will likely determine if the Nittany Lions enter the most difficult part of their schedule undefeated or not. Back-to-back contests in late October against Michigan at home and on the road at Ohio State will make or break the Nittany Lions' conference title hopes.
Michigan Wolverines  9-3  6-3  (3rd in Big Ten East)   
Jim Harbaugh's Wolverines appeared to be on their way to the College Football Playoff last year after a 9-0 start. They were then upset on a last second field goal at Iowa and dropped an overtime thriller at Ohio State. The season concluded with a disappointing late fourth quarter loss in the Orange Bowl to Florida State. After what appeared to be a CFB Playoff type of season, the Wolverines went 10-3 and had three losses by a combined total of five points. Michigan looks to contend for its first Big Ten title since 2004, but it's going to be tough.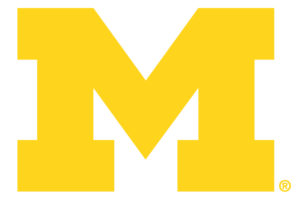 Wilton Speight is back under center after passing for 2,538 yards and 18 touchdowns last season, but who will be his playmakers? Speight loses all of his key targets in the pass game with Amara Darboh, Jehu Chesson and Jake Butt all in the NFL.
A lot of the workload may be up to five-star freshman wide receiver Donovan Peoples-Jones. The Wolverines have a deep backfield with the return of Chris Evans, Ty Isaac and Khalid Hill at fullback. The run game's success can only go as far as a Mason Cole led offensive line, which loses three fifth-year seniors.
Think the offense is lacking in experience, the defense lost all of its starters except for senior linebacker Mike McCray. With lethal players like Jabrill Peppers, Jourdan Lewis and Taco Charlton gone, there are questions on the defensive side. This could be the year where the nation gets to witness how good defensive end Rashan Gary can be. Gary was the top-ranked recruit in 2016.
The Wolverines open in Arlington against a stingy Florida team, which is almost a must-win game if they want to stay in the CFB Playoff race early. A trip to Penn State's "Happy Valley" on Oct. 21 is going to be challenging, but Michigan's final two games in back-to-back weeks against Wisconsin (Nov.18) and Ohio State (Nov. 25) will decide its fate.
Indiana Hoosiers  7-5  4-5  (Tied-4th in Big Ten East) 
Kevin Wilson is out after six years at the helm and two straight bowl appearances due to "philosophical differences" he had with Indiana athletic director Fred Glass. The future of the Indiana program is now up to former defensive coordinator Tom Allen, who will have his first job as a head coach at the collegiate level. Between the talent returning from last year and a manageable schedule, Indiana should continue its bowling streak.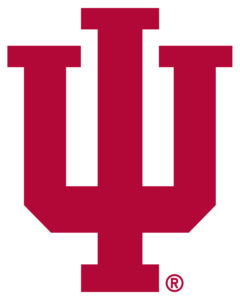 Senior quarterback Richard Lagow returns behind center, after finishing second in the league last season with 3,362 passing yards and 19 touchdowns. Avoiding mistakes will be key for Lagow, who threw 17 interceptions in 2016. The backfield loses 1,000-yard rusher Devine Redding, but the receiving corps returns its top target in Nick Westbrook. The offensive line returns three starters and will be anchored by Freshman All-American left tackle Coy Cronk.
The Hoosier defense, which surrendered 27.2 points per game last season, stays intact with almost every starter back. That includes the Big Ten's leading tackler Tegray Scales, who recorded 126 total tackles and 16.5 tackles for a loss.
Indiana opens its 2017 campaign up at home against Ohio State, then has three winnable non-conference contests. Getting Illinois, Rutgers and Purdue in its final three games of the season could help earn the program its first seven-win season since 2007.
Michigan State Spartans  7-5  4-5  (Tied-4th in Big Ten East) 
No team was more disappointing in 2016 than Mark Dantonio's Spartans. After winning a Big Ten title and playing in the College Football Playoff, Michigan State had its worst season in 25 years with a 3-9 finish. You have to imagine there is a big chip on their shoulders in East Lansing.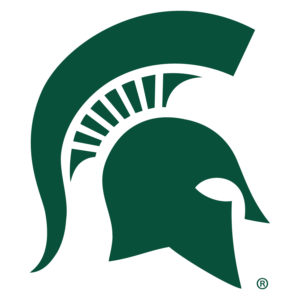 The Spartans have never been a team to score a lot on opponents, but last year was a disaster as the offense averaged a dismal 24.1 points per game. Inconsistent quarterback play is what hurt the offense last year. That's something that should change this season with redshirt sophomore gunslinger Brian Lewerke as the favorite to win the job. Lewerke started just two games in 2016, after suffering a broken leg against Michigan. Regardless of who ends up starting under center, the run game should thrive with a deep backfield led by talented running back LJ Scott. Three of the top four receivers are gone and just two starters are back up front.
Dantonio's physical defenses over the years has been the main focal point of the program, but that too dropped off with arguably his worst defense of his 10-year tenure (27.8 ppg). The Spartans return their leading tackler in linebacker Chris Frey (96 tackles) and hope they can get back to their typical hard-nosed football style.
Michigan State needs to win its non-conference games, which includes Notre Dame, before it can focus on competing in the Big Ten. A home game against Iowa (Sept. 30) and a road contest at in-state rival Michigan (Oct. 7) will give us an early indication where this season is headed. Back-to-back contests in November against Penn State and Ohio State is brutal, but the Spartans should finish the season off with wins against Maryland and Rutgers to hit seven wins.
Maryland Terrapins  5-7  3-6  (6th in Big Ten East) 
DJ Durkin came into College Park and made improvements in Year 1. The Terps went from 3-9 to 6-7 and made it back to a bowl game. Not only did their record improve, but Durkin has brought some hype back to the program by putting Maryland on the map with the 20th best recruiting class in 2017, according to ESPN. 
The offense will be propelled by a ground attack led by Ty Johnson and Lorenzo Harrison, who combined for 1,637 yards and 11 touchdowns last  season. Johnson set a school record by averaging 9.1 yards per carry. Junior wide receiver D.J. Moore is a go-to playmaker in the pass game and should have an even bigger year with North Carolina transfer Caleb Henderson, who is the favorite to start under center. The line will be anchored by right tackle Damian Prince.
Things got out of hand in three of Maryland's final four contests of the regular season, as it surrendered an astounding 45.3 points per game. Improvement should be made in Year 2 though. The linebacking corps headlines a defense returning eight starters from a year ago. The two leading tacklers, Jermaine Carter and Shane Cockerille, return after combining for 218 tackles and nine sacks.
The Terps travel to face Texas in Tom Herman's debut at the helm. A win in Austin to open the season would be a huge win for Durkin and the program. It might also be the win at the end of the season that gets them to a bowl game. Maryland draws Ohio State, as well as talented Northwestern and Wisconsin teams from the West Division in October. Then it must get through the gauntlet at the end of the season with matchups against Michigan, Michigan State and Penn State.
Rutgers Scarlet Knights  3-9  1-8  (7th in Big Ten East)   
Chris Ash had a wakeup call in his first year at helm, as he saw his Scarlet Knights go 2-10 and fail to win a Big Ten game. It was the program's worst season since 2002. A painful first season also included being outscored 224-0 by Ohio State, Michigan, Michigan State and Penn St. Things can only go up in Year 2.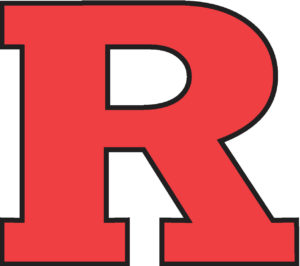 Former Minnesota head coach Jerry Kill takes over as the offensive coordinator and that will be a boost for an offense that averaged an awful 15.7 points per game. Janarion Grant is back to lead the receiving corps, while Robert Martin will head the backfield after rushing for 625 yards last season. The quarterback situation is the biggest question come fall with Louisville graduate transfer Kyle Bolin competing with junior Giovanni Rescigno and incoming freshman Johnathan Lewis.
Ash is a defensive coach and improvement should be made with eight starters back and a year under their belt. The linebacking unit returns all three starters, which includes the team's top two tacklers Trevor Morris (102 tackles) and Deonte Roberts (95 tackles).
The Scarlet Knights need to get past Eastern Michigan and Morgan State in non-conference play, then hope for a conference win. It should come in October against either Illinois or Purdue.
West Division 
Wisconsin Badgers  11-2  8-1  (1st in Big Ten West) 
The Badgers enter the 2017 season as huge favorites to win the Big Ten West Division. They lost all three games by seven points last season. That included the Big Ten Championship Game where Penn State scored 10 answered points in the 4th quarter and won 38-31. Coming off a Cotton Bowl victory, hopes are high in Madison as the Badgers get ready to contend for a spot in the College Football Playoff.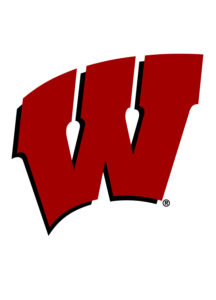 Alex Hornibrook returns to lead the Badger offense again, after starting nine games last season. Hornibrook, who had nine touchdowns and seven interceptions, split time with Bart Houston under center and was inconsistent at times. The receiving corps will benefit from its top targets back in Jazz Peavy and Troy Fumagalli. Bradrick Shaw will look to head the ground attack with 1,000-yard rusher Corey Clement and Dare Ogunbowale gone, while center Michael Deiter will anchor the line.
Wisconsin shut down opponents again last season, as it surrendered only 15.6 points per game (4th in the nation). The linebacking corps took a hit on Aug. 8th when fifth-year senior Jack Cichy went down with a torn ACL. The team's leading tackler T.J. Edwards (89 tackles) is back though, along with strong safety D'Cota Dixon. It should be business as usual under Jim Leonhard, who will be the third different defensive coordinator in three years at Wisconsin.
The schedule sets up well for the Badgers to repeat as division champs and compete on the national stage. A trip to Provo to face BYU in mid-September could be tricky, but the focus will be on back-to-back contests at home against Northwestern (Sept. 30) and at Nebraska (Oct. 7). Two wins there would be key moving forward, as Wisconsin will not be challenged until late November when it hosts both Iowa and Michigan.
Northwestern Wildcats  9-3  6-3  (2nd in Big Ten West)  
The Fighting Fitzergald's are back in the conversation to make a run at their first West Division title this year. The Wildcats enter the season following a Pinstripe Bowl victory against Pittsburgh and return 16 starters. 
The Wildcat offense is poised for big things this season with the tandem of running back Justin Jackson and quarterback Clayton Thorson back in the mix. Jackson, who is currently second in program history with 4,129 career rushing yards, will look to cap off his senior season with his fourth straight 1,000-yard season. In his third year behind center, Thorson's consistency will be even better following a season where he set a school record of 22 touchdown passes. The concerns on offense will be replacing go-to 1,000-yard receiver Austin Carr and getting more consistent offensive line play despite four starters returning.
Senior safety Godwin Igwebuike is among the best safeties in the league and returns to head an experienced secondary following a 108 tackle campaign. Linebacker Anthony Walker's presence is gone, as well as end Ifeadi Odenigbo's 10 sacks, but expect the Wildcats to still be strong in both the linebacking and defensive line units.
First, Northwestern needs to avoid non-conference losses to Nevada, Duke and Bowling Green. That's what hurt it early last season. Back-to-back weeks at Wisconsin (Sept. 30) and at home against Penn State (Oct. 7) could tell the tale of this season. Besides a road trip to Nebraska in early November, the Cats should be favored in six of its final seven games.
Iowa Hawkeyes  8-4  5-4  (3rd in Big Ten West)
The Hawkeyes were projected by many to win a second straight West Division title last season, then they  lost momentum early by suffering upsets at home to both North Dakota State and Northwestern. Iowa did get its season back on track in November as it upset then-second ranked Michigan and reeled off three straight wins. A 30-3 Outback Bowl loss to Florida is something to forget though. Iowa isn't being talked about heading into the season, which means its time to play the underdog role and surprise its  doubters.
The biggest question heading into the season for the Hawkeyes is the quarterback position. Sophomore Nathan Stanley and junior Tyler Wiegers, who are currently competing to replace two-year starter C.J. Beathard, have a combined 13 career-pass attempts
.
Brian Ferentz's offense is going to be relying heavily on Akrum Wadley in the backfield and a talented offensive line that returns senior right guard Sean Welsh and three other starters. Wadley led the Hawkeyes in rushing with 1,081 yards and 10 touchdowns. He will also be the team's top returning reception leader. Matt VandeBerg will be the go-to guy in the Hawkeye pass game if he can stay healthy. VandeBerg's medical hardship waiver was approved after he missed the final nine games of last season with a broken foot.
The always stingy Iowa defense will be spearheaded by three-year starter and fourth-team All-American linebacker Josey Jewell. Jewell, who will be one of the top defensive playmakers in the nation this season, recorded an impressive 124 tackles in 2016. He'll be joined by returning starters Bo Bower and Ben Niemann, who combined for 160 tackles last year. The defensive line returns two starters, while the secondary returns only Miles Taylor at strong safety. Free safety Brandon Snyder, who was third on the team with 85 tackles, suffered a torn ACL during the spring.
Iowa should get through its first three games of the season before hosting highly-ranked Penn State at home on Sept. 23. This will give Hawkeye fans an idea of how good this Iowa team is. The second half of the schedule will be challenging with road contests at Northwestern (Oct. 21), Wisconsin (Nov. 11) and Nebraska (Nov. 24). Iowa will also have a home showdown against Ohio State on Nov. 4, who it hasn't defeated since 2004.
Nebraska Cornhuskers  7-5  5-4  (4th in Big Ten West)    
The Huskers bounced back with nine wins in Mike Riley's second year at the helm following a disappointing 6-7 2015 season. It's crunch time in Lincoln and that means Nebraska needs to be in contention for a Big Ten West Division title, but it's going to be an uphill battle with the schedule it draws this season.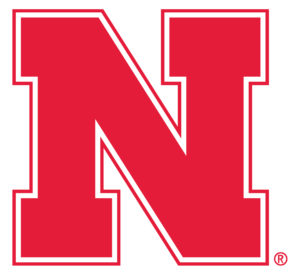 With dual-threat quarterback Tommy Armstrong gone, Riley finally gets a quarterback that will fit his pro-style system in Tulane transfer Tanner Lee.  The offense finished in the bottom half of the league last year and there are questions on who'll be the playmakers surrounding Lee with Terrell Newby and Jordan Westerkamp gone. Newby had 35 more carries and one more touchdown than the top three returning running backs had combined.
Tre Bryant, Mikale Wilbon and Devine Ozigbo will be asked to step up by committee in a run game that averaged only 169.2 yards per game. Explosive playmaker De'Mornay Pierson-El and Stanley Morgan Jr. will be Lee's main targets in the pass game, while the offensive line will be led by left tackle Nick Gates.
Bob Diaco takes over the "Blackshirts" following a three-year stint at UConn and will make the switch to a 3-4 defensive scheme. The secondary will be the strongest unit with Kieron Williams, Joshua Kalu and Chris Jones all back. Williams is the team's top returning tackler after recording 69 tackles last season. Dedrick Young is the lone returning starter in the linebacking corps, while Freedom Alkinmoladun and Mick Stoltenberg will anchor the defensive line.
The Huskers have an early season matchup at Oregon, who they knocked off 35-32 at home last year. This game will provide motivation moving forward if they can come out of Autzen Stadium with a victory. Back-to-back home stands against Wisconsin and Ohio St in October will be critical in regards to how it fairs in the Big Ten this season.The entire month of November will be tricky with matchups against Northwestern, Minnesota, Penn State and Iowa.
Minnesota Golden Gophers  6-6  3-6  (5th in Big Ten West)
"Row the Boat" will now be the motto of the Minnesota Golden Gophers with the addition of new head coach P.J. Fleck. Fleck, who heads to Minneapolis following an incredible 2016 season at Western Michigan, will look to change the culture of the program with his passion and energy. Minnesota's 9-4 record, its best finish since 2003, was clearly overshadowed by the suspension of 10 players and the player-led boycott leading into the Holiday Bowl. Tracy Claeys and his staff were fired following the bowl win and that led to the hiring of Fleck. 
The Gopher offense will lean on its pair of playmakers in the backfield consisting of Rodney Smith and Shannon Brooks. Smith racked up 1,158 rushing yards and 16 touchdowns, while Brooks had 650 yards and five touchdowns. The Mitch Leidner years are officially over at Minnesota, meaning it may finally be redshirt senior Conor Rhoda's time to shine under center. That's unless Rhoda is beat out by sophomore Demry Croft. Rashad Still will be the go-to guy in the receiving corps this season.
Minnesota surrendered only 22.1 points per game (21st in nation) last season, but return just four starters. Senior 6'0", 300-pound defensive tackle Steven Richardson returns up the middle following a season where he recorded 11 tackles for a loss. The team's top returning tackler, linebacker Jonathan Celestin, will lead a deep linebacking unit.
A trip to Corvallis to face Oregon State early in September will be a nice early test for Fleck's squad. The schedule won't really heat up until the backend of the schedule when Minnesota plays consecutive weeks against (at) Iowa, (at) Michigan, Nebraska, (at) Northwestern and Wisconsin. Hitting six wins and being bowl eligible is manageable, but will the Gophers overachieve?
Purdue Boilermakers  3-9  2-7  (6th in Big Ten West)
The Darrell Hazell era was short-lived as he lasted just 3.5 years and won a combined nine total games. In comes former Western Kentucky head coach Jeff Brohm, who will look to resurrect a struggling Purdue program with an exciting high-octane offense. The Boilermakers should have its best conference record since 2012.
The offense only goes as far as junior quarterback David Blough does following an impressive season where he led the Big Ten during the regular season with 3,352 passing yards and 25 touchdowns. While he had success, interceptions were a problem as he led the Big Ten with 21 picks. Blough loses four of his top five receivers, but will have a lot of help with a deep backfield led by junior Markell Jones.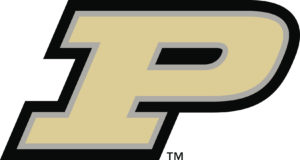 Seven starters return to a Boilermaker defense that gave up an awful 38.3 points per game (117th in the nation). Team-leading tackler Markus Bailey (97 tackles) headlines an experienced linebacking unit, while senior tackle Gelen Robinson is back up front after leading the team with five sacks.
Brohm's debut will coincidentally be in Indianapolis against his alma mater Louisville. The Boilermakers' season opener will be followed by more difficult non-conference games against Ohio and Missouri. One non-conference win, along with wins against Rutgers (Oct. 21) and Illinois (Nov. 4) is more than doable. The question is if they'll find a way to pull off at least one upset this year?
Illinois Fighting Illini  2-10  1-8  (7th in Big Ten West)
Lovie Smith is in Year 2 at the helm and their is still a lot of work to do. The Illini haven't had a winning season in six years and haven't been relevant since it made the Rose Bowl a decade ago.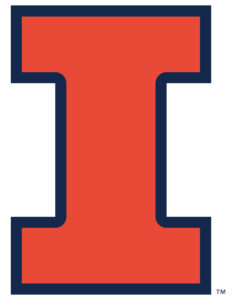 Quarterback Wes Lunt is gone from an offense that ranked 122nd in scoring             (19.7 points per game) and 123rd in total yards per game (315.1). The success of the offense will now lean on junior Chayce Crouch. The pass game should improve as well with the addition of Mikey Dudek, who hasn't played the past two seasons because of  ACL injuries. In 2014, Dudek became the first freshman to record more than 1,000 receiving yards. Kendrick Foster is back to lead the Illini ground attack, while tackle Christian DeLauro headlines the offensive line.
The defense loses a lot of talent, including Hardy Nickerson and Carroll Phillips. Illinois struggled defensively, but still managed to have success against the pass by holding opponents to 185.9 yards per game (17th in the nation). Junior linebacker Tré Watson returns as the top returning tackler (102 tackles) and will look for help from junior college transfer Del'Shawn Phillips. The line will be inexperienced with the top four sack-leaders gone and there are questions on how talented a young secondary can be.
Besides Ball State, the non-conference schedule won't be easy with contests against Western Kentucky and South Florida. To at least match last year's win total of three, the Illini need to knock off Rutgers (Oct. 14) and Purdue (Nov. 4).
Big Ten Championship Game: Ohio State over Wisconsin