College Football: Huskers look to bounce back against Huskies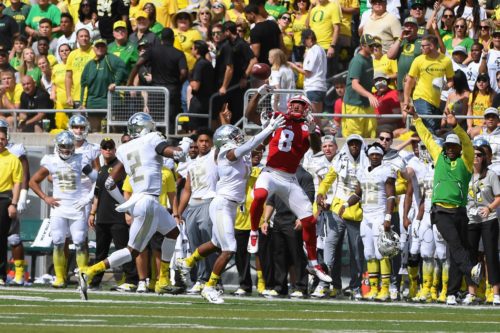 Eric Evans Photography
Game Information: Northern Illinois at Nebraska  11:00 AM CT  FS1
LINCOLN, NE — Following a disappointing loss at Oregon last week, Nebraska (1-1, 0-0 Big Ten) hosts a tricky Northern Illinois team (1-1, 0-0 MAC) that has given power five opponents problems for more than a decade. Since Rod Carey took the helm back in 2013, the Huskies are 3-1 against Big Ten opponents. The lone loss came against No. 1 Ohio State in 2015 when they fell late 20-13. Following difficult back-to-back contests to start the season, the Huskers are looking to avoid its second 1-2 start in three seasons.
While Nebraska allowed 42 points in the first half at Oregon last week, it managed to hold the Ducks scoreless and to only 52 passing yards in the second half. As disappointing as it was for Corvallis native Mike Riley, who moved to 1-7 all-time in games at Autzen Stadium, the Huskers 21 unanswered points in the second half was a silver lining in a 42-35 loss.
"I think there is a chance to build off of how we finished and a really, really good opportunity to learn from how we started, and that was evident," stated Riley.
The defense made the adjustments it needed to contain Oregon's up-tempo offense and the Husker offense was more consistent in the second half. Stanley Morgan Jr. recorded another 100-plus receiving yard performance and scored twice, while running back Tre Bryant rushed for over 100 yards for a second straight week before exiting in the fourth quarter with a knee injury. Bryant will rest this week giving junior Mikale Wilbon the start at running back.
Transfer quarterback Tanner Lee, who threw a career-high four interceptions and failed to connect with receivers in critical third down situations against Oregon, is probably wishing he could have a few of those plays back. The Huskers' biggest problem was converting on third down, as it went a disappointing 2-of-14. While the offense looks to improve, it's going to take time getting used to Bob Diaco's 3-4 defensive scheme. The Blackshirt defense has allowed opponents to complete 70.2 percent of its passes and have recorded only one sack.
Diaco's inexperienced defense has faced the spread offense twice this season already. It will again see a glimpse of the spread on Saturday against Northern Illinois. The Huskies will be without starting quarterback Ryan Graham though, who will miss his second consecutive start with a sprained elbow injury he suffered in an opening week 23-20 loss to Boston College. Replacing Graham is sophomore Daniel Santacaterina, who completed 23-of-34 passes for 252 yards and three touchdowns in a 38-10 win against Eastern Illinois last week.
"They (Northern Illinois) were probably more of what you'd call a pro-standard offense a year ago, but they've gone to a lot of spread stuff with the fly sweep, with the run off of the fly-sweep, with the quarterback run off the fly sweep, with the faking and throwing that we've been getting a dose of all week," mentioned Riley.
The Husker secondary, which has surrendered an average of 390 passing yards per game this season (128th in the nation), will have the task of defending speedster D.J. Brown and Christian Blake. Brown had seven receptions for 88 yards last week.
If Nebraska doesn't get off to a quick start in this one, Husker fans are going to be in for another close one. The defense needs to disrupt Santacaterina in the pocket and the offense has to rely on the Lee-Morgan connection to open up the game and wear down a Jawuan Johnson (17 tackles, 4.5 tfl) led Husky defense that currently is holding opponents to 16.5 ppg.
Prediction: Nebraska 35, Northern Illinois 20