College Football: Iowa State-West Virginia Preview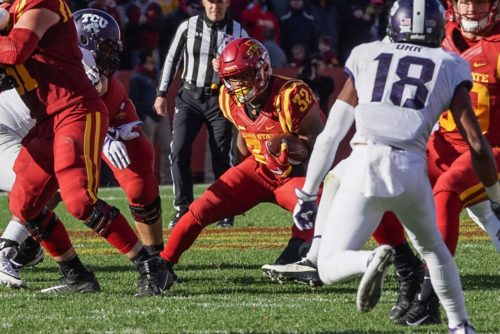 GameTime Sports Photography
No. 15 Iowa State at West Virginia  2:30 PM CT  ESPN2
Iowa State (6-2, 4-1 Big 12) is this season's Cinderella story already, as they pulled off upsets against Top 4 Oklahoma and TCU teams. Contending for the program's first Big 12 title in conference history has become a little more real with only four games remaining in the regular season. It's fair to say that second-year head coach Matt Campbell is ahead of schedule with Iowa State off to its best start since 2002.
Riding a four-game winning streak, the Cyclones will have a difficult road test against a West Virginia (5-3, 3-2 Big 12) team that has lost three games this season by an average of 8.3 points. Since the Mountaineers joined the Big 12 back in 2012, they've fallen victim to the Cyclones just once in a 52-44 overtime loss back in 2013.
While a Will Grier led Mountaineer offense has averaged an impressive 42.8 points per game (seventh in the nation), it may have its most difficult task yet against a stingy Cyclone defense that's surrendered only 20 points in its past three games. Linebacker Marcel Spears Jr., has been clutch for Iowa State's defense as of late by sealing victories with interceptions in the fourth quarter the past two games. Spears ran back a 61-yard interception for a touchdown with 9:07 remaining at Texas Tech and had the game-clinching interception against TCU with 1:16 left in the fourth quarter last week.
Iowa State hasn't lost a game since senior quarterback Kyle Kempt stepped in to take over the offense in early October against Oklahoma, but this is going to be a difficult task keeping up with a Mountaineer offense that can rack up points. Grier has accounted for 2,752 passing yards and 28 touchdowns with help from go-to wide receiver David Sills  (781 yards, 15 TDs). The Cyclones could get a big performance out of team-leading rusher David Montgomery (716 yards, eight TDs) though against the 107th worst rush defense in the nation. That may be the main factor in the Cyclones having success on offense.
Facing its fifth ranked opponent of the season, Dana Holgorsen's squad sneaks out a close one in Morgantown in a high-scoring thriller.
Prediction: West Virginia 42, Iowa State 38