College Football: CFP Rankings and Bowl Projections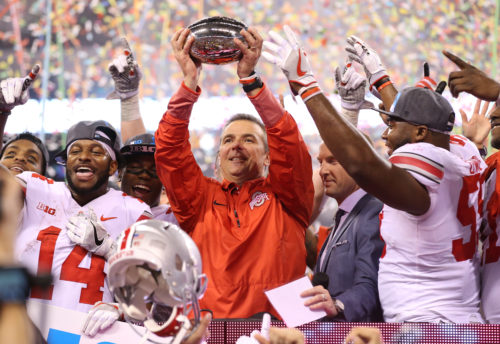 Photo by Andy Lyons/Getty Images
We knew the College Football Playoff Committee would be put to the test Sunday morning, but we weren't sure just how difficult it would it end up being.
For the committee's sake, at least No. 1 Clemson and No. 3 Oklahoma avoided upsets and won convincingly in their conference championship games. The SEC Championship Game between No. 2 Auburn and No. 6 Georgia was basically a play-in game, meaning that would make things easy. Then there was the Big Ten Championship Game, which has already been associated with controversy two out of the three years of the CFP. Eighth-ranked Ohio State held on late against fourth-ranked Wisconsin 27-21 putting Urban Meyer and his team back in the CFP picture yet again.
The Buckeyes found their way into the CFP in 2014 when they throttled Wisconsin 59-0 in the Big Ten Championship Game, then there was last season when they made it as an at-large team over Big Ten Champion Penn State. Of course, the two-loss Nittany Lions defeated the Buckeyes in the regular season and won a Big Ten Title, but it wasn't good enough to make the CFP.
Ohio State now hopes to advance to the CFP for the third time in four years and earn the fourth and final spot over No. 5 Alabama. This will easily be the toughest decision the committee has had to make in its four-year existence.
Why Ohio State deserves to be in:
The Buckeyes won a Big Ten Conference Title and are 3-1 against ranked teams. They knocked off Top 4 Penn State and Wisconsin teams and manhandled then-No. 12 Michigan State 48-3 at home.
Why Ohio State doesn't deserve to be in:
The Buckeyes struggled in a 31-16 loss at home to then-No. 5 Oklahoma in Week 2 of the season, but that's not too concerning when you see where the Sooners finished this season. The embarrassing 55-24 loss at Iowa on Nov. 4th is the major factor if Ohio State is left out of the CFP. Iowa finished the season 7-5 and unranked. Ohio State also has two losses, while Alabama only has one.
Why Alabama deserves to be in:
On paper the Buckeyes look better, but Alabama may look better using the eye test. Besides a 12-point loss to SEC West Division Champion Auburn, Alabama has been more consistent throughout the entire season. They went 3-1 against ranked teams.
Why Alabama doesn't deserve to be in: 
The Crimson Tide failed to win the SEC Conference Title and had a weaker schedule. The big win in their season-opener against then-No. 3 Florida State is useless, which leaves LSU (9-3) and Mississippi State (8-4) as its best wins of the season. Fresno State losing the Mountain West Championship Game to Boise State and Auburn falling to Georgia in the SEC Championship Game was not helpful for their resumé either.
Projected College Football Playoff Rankings 
Clemson
Oklahoma
Georgia
Ohio State
SUX Sports Bowl Game Predictions 
College Football Playoff Semifinal Matchups 
Sugar Bowl (New Orleans)
1. Clemson  vs. 4. Ohio State
Rose Bowl (Pasadena, Calif.)
2. Oklahoma vs. 3. Georgia
Other New Year's Six Games
Cotton Bowl (Arlington, TX)
Penn State vs. TCU
Fiesta Bowl (Glendale, Ariz.)
USC vs. Wisconsin
Orange Bowl (Miami)
Miami (FL) vs. Alabama
Peach Bowl (Atlanta) 
Auburn vs. UCF